As usual, I just used LRT to move around KL. Thus, I took an LRT last Saturday, went to an Education Fair at KLCC Convention Centre, looking for a chance to further my study. So, I went there with my son. We had lunch before we went out and it was already 2 o'clock in the evening. Thus, I walked a bit faster in case I was late. Holding my boys' hand, we strolled to the platform. My husband dropped me at the train station. He couldn't be with us that day because he had extra work at his office. Azraei' couldn't wait to be on the train and he kept asking where was the train. Each second that question came out.

When the train arrived, he walked in with a very bright face. Looking for a seat. Unfortunately, it was full. Luckily, a girl stood up and gave the seat to us. So, Azraei' ran to the seat and climbed it up. With a laugh, he stood and watched the scenery outside the train. He was having so much fun, mentioned each thing that he saw. Asking about all the things that he didn't know," Tu apa? Ni apa?" Till we reached our destination.

We walked to the KLCC Convention Centre, and of course, we strolling again, slowly. Coz he started to mention that his legs were beginning to hurt, due to the long distance walking. He saw the aquaria pictures and asked to watched the 'vt' there. Thus we stopped by a second and moved on. When we reached the convention centre, I needed to speed up. However, Azraei' kept complaining that his legs hurt, thus I had to support him up and unfortunately I couldn't support him long because my stomach hurt. Then we continue looking around and I filled up some forms and had to get going. Azraei' started to get bored, so, it was time to leave the convention centre.

No more walking slowly, we had to walk faster. Needed to get back on the train and he was sleepy. Which later only I did realize why he kept complaining about his legs. Unlucky me, there were a lot of people waiting for the train. However we still needed to sneak in. The train was full. We had to stand, but, when the train stopped at the first station I brought Azraei' to the seats and it was the OKU seats which full of people who definitely were not OKU. 1 man and 3 ladies, young ladies and young man. I looked at them, hopefully one of them will stood up and give us the seat. I had to stare for 2 minutes and they sit still and just looked at my Azraei' with a smile; adoring his cuteness I thought. But we needed the seat, he was really sleepy. Then, Azraei' started to sit on the floor. It gave me no other choice, thus, I spoke,"Please, may any of you give me a seat?"2 times of asking. 2 ladies stood. with grumpy faces. Well I just thought, they needed to learn their manners. And Azraei', he only took about 5 minutes later to sleep. After he watched the view and really couldn't open his eyes, pity him. We were unable to reach home before he slept.

In the train, I held him tight so that he slept comfotably.Mostly, Azraei' will easily wake up if we try to support or just hold him up, but, in that train that evening, he didn't even wiggle whenever I moved or when I tightened my held on him or made myself comfortable while I held him. Later when we reached our destination, I had to use the elevator to leave the platform as my stomach started to hurt again. And waited for my husband to pick us up. We reached home at 5 o'çlock that evening. Unable to take him to the playground.

The picture of the day when we went for that outing.

Just by looking at the graph, we know that the population in Malaysia is rapidly going.
Which of course as a developer, I would definitely plan on building more houses. Which we can observe that nowadays there are a lot of projects up for sale. There are a lot of vacant lands exchanging hands and being developed. I definitely not know how to write about it in economic terms, I am just making some simple observations on the progress of this sector in Malaysia. The growth in population certainly effects the development as the demand for property increases.
Thus, based on this condition, prices must go up. Its because the product of the demand takes a long time to finish. Even though we have more than 10 projects going at a time, it takes 2 years at least to finish them. Thus the demand is still high even after the products are on the market. Since, it is not a good reason to increase the price as high as we have ever seen in Malaysia. This is the average price in 2010 for a single-storey terraced house...
Now in 2012, it increased up to RM 240,000.00 per house. Imagine the price for a double-storey terraced house. The price is now on average RM 350,000.00. A single-storey semi-d is now RM 500,000.00, a double-storey semi-d is RM 800,00.00. This is insane, it even effects the rural areas now. Even Penang get the same effects, Malacca, Negeri Sembilan and all over Malaysia is affected by this property price burst. What is the developers right to make the house price increase like that. Who is this speculator that keeps saying that the land market price is increasing just because of the development that happens around the area. There is somebody who observes and manages this phenomenon, right? Can't or won't they do anything to prevent this from happening? The situation is actually make our youngsters, our newly weds, our low and mid income earners having a hard time to get a dream home. The loan is too big for them to bear. Is this what they want as an outcome? We as the citizen of Malaysia are actually suffering in trying to get a good home due to the high price. It is unimaginable. How can the tribunal just let the speculator speculate on the price and say this is the price that we have to face due to development? Something's need to be done.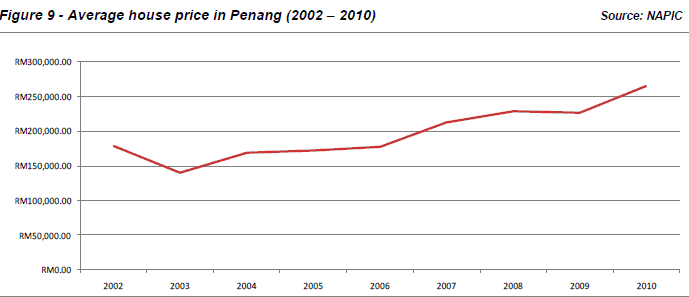 The debts that we Malaysians have to suffer just because the demands of having a good life cost us a lot. Just hope that somebody with a lot of empathy understands that. What we Malaysians are actually suffering now is the hope of having a good life. And for me, to face this condition, be wise in spending. Use less credit cards, as I have none. Plan on what you want to buy and what you want to have. Don't buy the things that are not in your list. Think of what you actually need and not what you want. And before you start spending, saving first, 20% will put you in a manageable position. In addition keep RM 100 at somewhere safe in the house, just in case. That is what I did and I'm having quite a good life. The good life; not burdened with money matters, come after I paid all my tates every year.